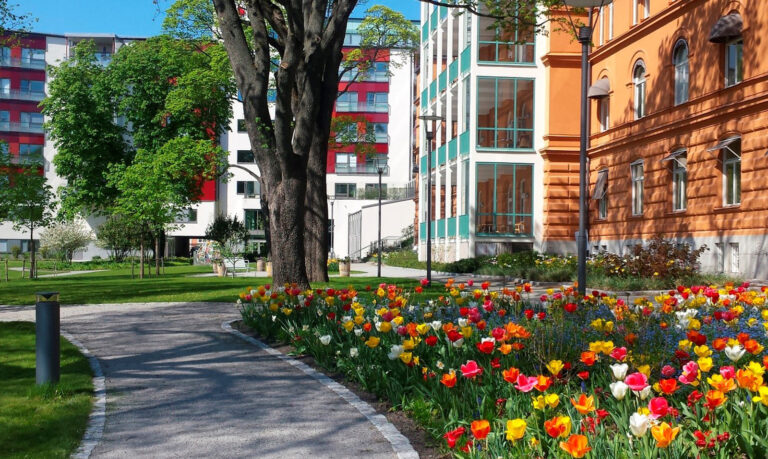 Our organization
FINGERS Brain Health Institute was established in Stockholm, Sweden in 2019 as a nonprofit foundation and will carry out advanced clinical research activities within the brain health area. The Institute is the first effort of its kind in Sweden. We see broad external collaborative efforts with several partners as a prerequisite to carry out activities for the promotion of brain health. The Institute will therefore operate in a cross-functional way and collaborate with leading research organizations and corporations both in Sweden and internationally. As the Institute is a nonprofit foundation it is completely dependent on donations from private individuals, other foundations and companies to establish and build its portfolio of activities.
The Institute is localized at and will collaborate with Stockholms Sjukhem at Kungsholmen in the center of Stockholm, Sweden. Stockholms Sjukhem´s holistic value base and ongoing activities will facilitate synergies and collaborative research projects.
The Institute´s management consists of the two initiators, Professor Miia Kivipelto (Karolinska Institutet and Karolinska University Hospital) and Associate Professor Maris Hartmanis (formerly CEO of Medivir). The Institute is based on Miia Kivipelto´s internationally recognized FINGER-study which has shown that modifications of lifestyle factors can prevent cognitive failure and dementia in different risk groups. Miia is the scientific and clinical director at the Institute. Maris is its CEO and he has over 30 years' experience from CEO and R&D management positions in both small and large companies within the Life Science area.
Provided that capital for the long-term activities at the Institute can be secured through donations during 2019, we foresee that around 20 key people can be employed or affiliated with the Institute by the end of 2020. This includes expertise within planning, coordination and execution of clinical trials, bioinformatics, databases, neuropsychology, geriatrics and neurology, cognitive assessments, biomarkers and communications.
The members of the Institute´s Board of Directors are Miia Kivipelto, Maris Hartmanis and Liselotte Jansson, Secretary General of the Swedish Alzheimer´s Foundation.
The founders of the FINGERS Brain Health Institute are the Swedish Alzheimer´s Foundation, Jonas and Robert af Jochnick, founders of Oriflame and Leif Lundblad, entrepreneur and inventor of the ATM machine. In February 2019 they donated funds for the establishment of the Institute as a nonprofit foundation.

Fingers Brain Health Institute
c/o Stockholms Sjukhem
Box 12230
102 26 Stockholm