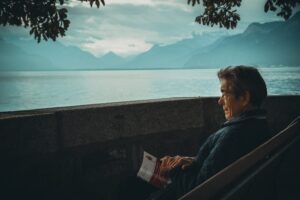 Miia Kivipelto and Katie Palmer from the FINGERS Brain Health Institute have published anEditorial on the impact of the COVID-19 pandemic on older persons, featured in a research topic in Frontiers in Aging Psychiatry.  
The collection of 45 articles highlights the rising psychological effects of COVID-19 and the restrictive measures adopted worldwide. Many studies reported an emergence of new neuropsychiatric symptoms and a rapid increase of pre-existing symptomatology in patients with cognitive impairment and their caregivers. Older persons have been increasingly  concerned about faster cognitive decline, which is associated with social isolation and psychological symptoms.
The rapid reduction in routine clinical activities for non-urgent medical conditions during the first waves of the pandemic affected not only patients' care access and monitoring but also increased caregiver burden.
This raises important questions for the future: how can we minimize the effect of the pandemic on older persons and how have coping strategies changed over time as the pandemic has progressed?